COVID-19 Pandemic Exacerbates Household Food Insecurity
Today is day 35 of the West Virginia Stay-at-Home order, which began 24 March 2020. I am fortunate to have a safe home and loving spouse to spend time with during this extended period of quarantine. We share a car and are able to pre-order and use curb-side pick-up for groceries. As a hobby hydroponics enthusiast, I am able to grow salad greens and herbs indoors, giving us a supply of cost-saving supplements to decrease our food costs.
But what about those who aren't so fortunate? How do those who rely on friends, neighbors or extended family for transportation get groceries? What about those who are unable to work or who have recently lost their jobs due to economic consequences of the COVID-19 pandemic? How do those in food desert communities get access to produce and other supplies they need, especially at this time with social distancing requirements that's creating new transportation challenges and increased economic uncertainties?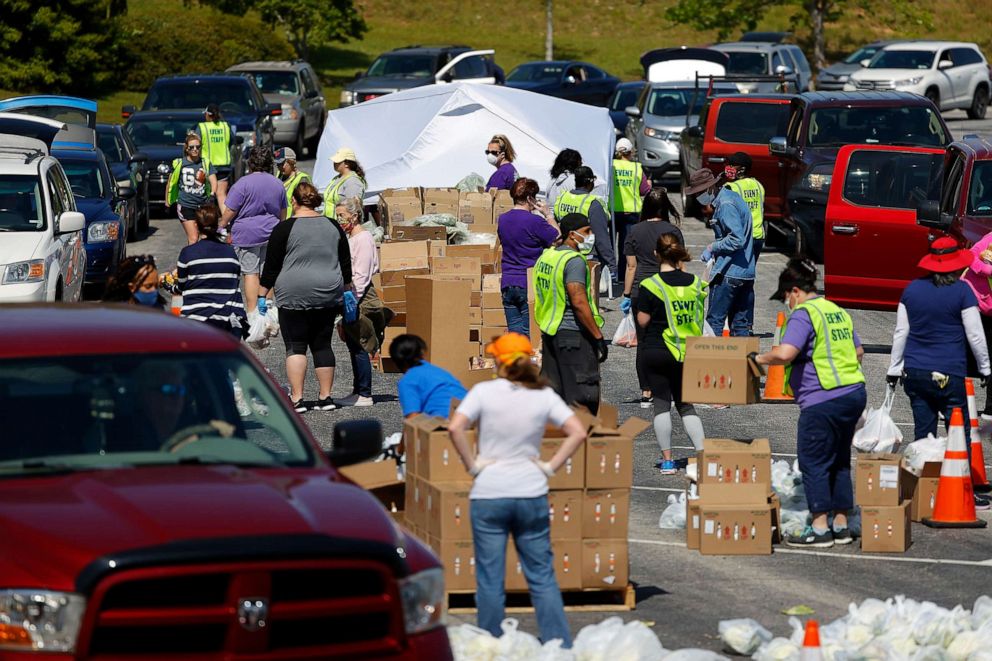 In April 2020 U.S. unemployment jumped from 4% to 20%[i] and extended school closings caused by the COVID-19 pandemic are exacerbating food insecurity in communities across the country. While governments and communities around the world are desperately trying to respond to the medical and economic consequences of the COVID-19 pandemic, a breakdown in global food supply chains is gradually emerging.
The forthcoming wave of a global food crisis is illustrated in these three stories.[i] April 9, San Antonio (TX), 10,000 families arrive before dawn to receive free boxes of food at a mall that normally would serve 200-400 families. April 10, Nairobi, Kenya, thousands of people seeking government food aid are beaten back by police. April 13, Dhaka, Bangladesh, thousands of unpaid garment workers defy a stay-at-home order to block transportation and demand wages—risking coronavirus contagion rather than go without food.
Globally, the impacts of the COVID-19 disease and steps needed to contain it are already evidenced in the US and other high- and middle-income countries. Gradually we are seeing that the COVID-19 global pandemic is having a disastrous impact on global food supply and consumer's ability to buy food. Farmers and distributors are cutting back on food production and supplies because their primary customers (schools, restaurants, hotels, airlines) have cancelled standing orders. Households and service sectors are cutting back on food purchases as their incomes have been slashed or have stopped altogether.
In the United States food production, processing, and delivery are continuing as essential activities. However, without systemic changes, food production and processing require close interaction among numerous, low-wage workers. Meat processing plant workers have especially risked exposure to the coronavirus.  More than 5,000 U.S. meat and food-processing workers have been infected with or exposed to the COVID-19 virus, and 13 have died as a result of their COVID-19 infection.[ii]
Food Insecurity: A National Concern
The United States Department of Agriculture (USDA) considers household structure, race and ethnicity, geography, and income as well as distance from healthy food outlets to determine food security and insecurity across communities. Food insecurity refers to "food intake of household members [that is] reduced and normal eating patterns that are disrupted."[i]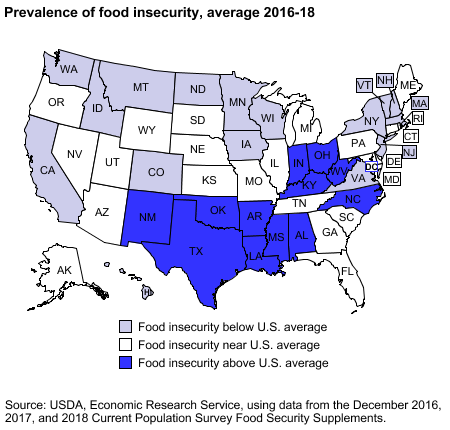 Household food insecurity results in families not having the ability to provide enough food for a healthy and active lifestyle for all household members. While income is a strong predictor of food insecurity, evidence shows that families both above and below the poverty line suffer from food insecurity.[ii]
USDA data shows that households with children (especially with children under the age of 6) show a higher level of food insecurity than the national average.[iii] Household food insecurity is especially harmful to children as researchers report tangible, deleterious impacts on child development[iv] resulting in increased hospitalizations, poor health, iron deficiency, developmental risk and behavior problems such as aggression, anxiety, depression, and attention deficit disorder.[v]
According to research by the USDA, the rate of food insecurity is higher than the national average (12.3%) in these four subgroups: 1) households with children younger than 6 years of age (16.6%); 2) households with children headed by a single woman (31.6%) or single man (21.7%); 3) households headed by a black non-Hispanic (22.5%) or Hispanic (18.5%); 4) low-income households in which the annual income is less than 185% of the poverty threshold (31.6%).
Pediatric psychologist Dr. Maureen Black explains that, "Household food insecurity occurs disproportionately among children and families at high risk of obesity, making it difficult to determine causal effects. The lack of clear associations between food insecurity and children's growth means that it is often invisible. Without asking specifically about food insecurity, providers are unlikely to recognize children and families who are food insecure."[i]
Food Insecurity at the Local Level
A recent newspaper story by Steven Allen Adams[i] reports that 13.41% of West Virginians reside in communities with reduced access to healthy food. This statistic means that 250,000 people in West Virginia have either limited vehicle access, live more than 20 miles from their nearest grocery store, or in urban areas, live over 1/2 mile to 10 miles from the nearest grocery store. The number of West Virginians living in locations fitting these criteria called "food deserts" is 0.6% higher than the national average of states offering food security (access to healthy food markets) for its citizens.
The map shown (at left) indicates West Virginia Food Deserts by highlighting geographic areas with low vehicle access or more than 20 miles distance from the nearest supermarket (turquoise), more than 1/2 mile (urban) or 10 miles (rural) distance from nearest supermarket (orange), and areas that overlap—having both low vehicle access and meet either urban and rural distances from nearest food market (purple).
What can we do?
Our immediate response must be to find ways to efficiently and effectively provide food relief to people—especially the most vulnerable populations. Rapid technology and communications changes have pushed the majority of 21st century jobs towards a broad skill set that can readily adapt to constantly evolving technologies.[i] We've seen firsthand how quickly business and personal communications have shifted from face-to-face to virtual during the COVID-19 pandemic. At some point, though, we realize Zoom meetings can keep many work tasks moving forward but won't get real food on the table. The online select, click, and virtual grocery cart only succeeds when real, eatable food arrives from the store to our kitchens.
Here are three steps outlined by the West Virginia Food Justice organization to address food distribution challenges. First, we need to identify the barriers to accessing healthy foods at the community level. Many communities see lack of transportation, isolation of elderly populations, and lack of local food outlets as their greatest challenges. Second, we need to identify existing assets that already exist in our communities for distributing food. This task involves pointing out what services currently exist in the government or private sector that are working as well as finding where gaps exist in services and distribution networks. Third, we need to create strategies to improve access to healthy food. This requires investigating the problems that currently exist and coming up with solutions that breakdown current barriers and take advantage of existing and obtainable resources.
Another critical action to addressing food insecurity at the community level is to educate all community service providers about their role as "first responders" in this process. Those who interact with children and families are needed to help identify those suffering with food insecurity and nutritional deficiencies. A recent article on food insecurity in the Journal of Family Medicine suggests two questions to ask to identify food insecurity in children[ii]:
Within the past 12 months, we worried whether our food would run out before we got money to buy more? (Yes or No)
Within the past 12 months, the food we bought just didn't last and we didn't have money to get more? (Yes or No)
Everyone who interacts with families and children should incorporate these questions into their routine of making sure children and families are safe and food secure in their local communities. Families and individuals needing help with getting food can locate governmental and social service programs—including food pantries and food banks on the Feeding America  website.
The stay-at-home order has offered families a golden opportunity to grow vegetables—whether in plant pots, a backyard lot, or on a 100-acre plot. Starting a family garden together outside offers meaningful tasks for everyone with a bonus of homegrown food forthcoming in a matter of weeks or months.
To show just how much impact the COVID-19 quarantine has had as a motivator for home gardening, the West Virginia University Extension Service's Family Nutrition Program puts some numbers on this shift in interest. The WV Garden Challenge sends free seeds to anyone in WV who fills out a short survey.  In the last two years, about 200 people participated in the seed giveaway program. This year, according to Kristin McCartney, public health specialist for WVU, "over 25,000 people are participating in the 2020 West Virginia Garden Challenge program."[i] That's an increase in requests for free seeds by 12,500 percent!
Planning for the Future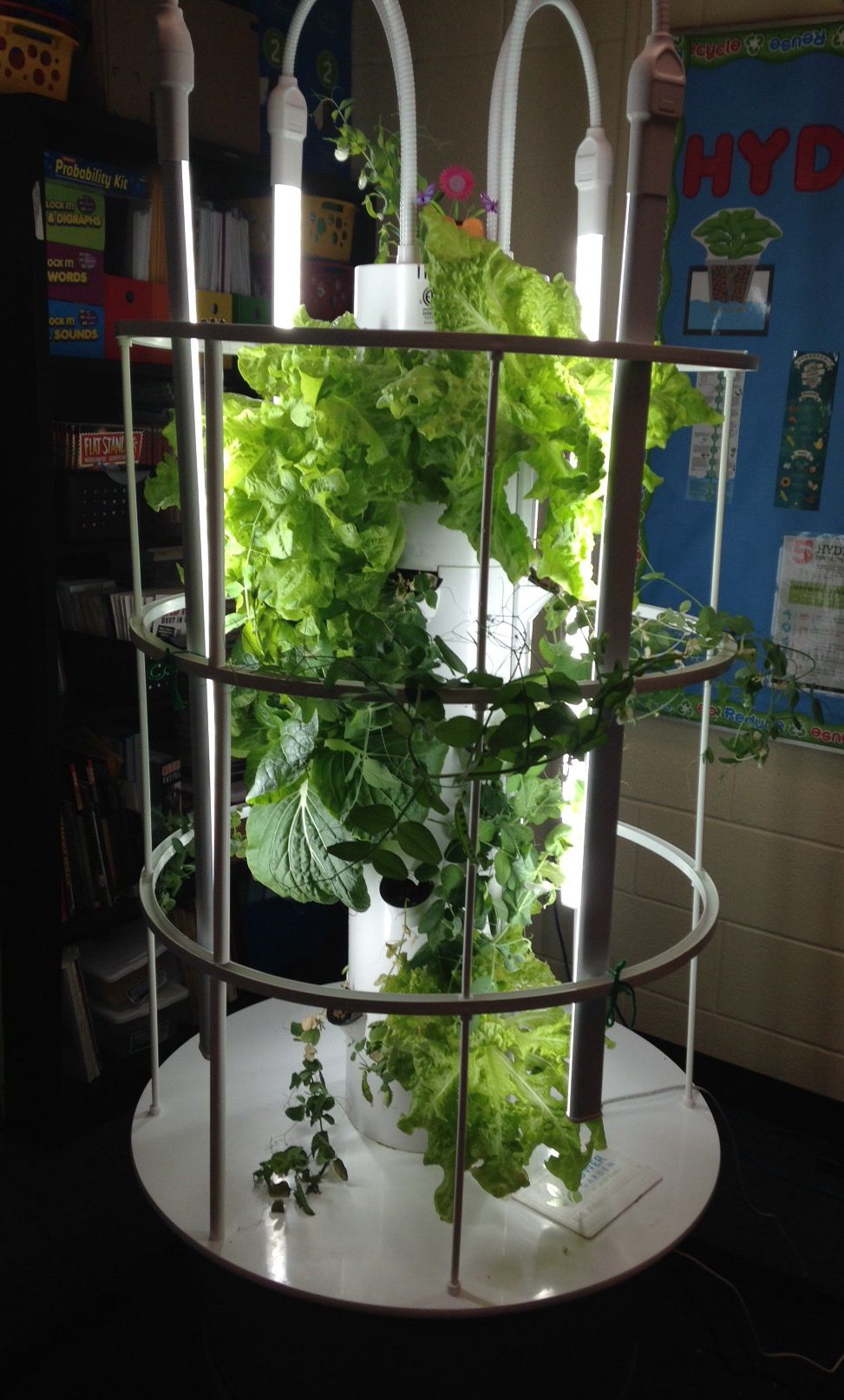 In the long-term each of us must find ways to boost agricultural growth as a key pillar of inclusive economic development. We can do this by establishing community gardens, organizing school gardens at community schools, supporting regional small and medium-sized agricultural producers, and making sure our children learn about plant-based food production as one of their 21st century skills. Knowing how to grow salad greens with a simple hydroponic system, can offer an inexpensive and viable way to take action to improve a family's food security situation.
The Center for Strategic and International Studies, a think tank based in Washington, DC, suggests four actions for the United States[i] to take to respond to the emerging food crisis as a global leader: 1. Support food crisis response teams at the national level—creating a coordinated effort that aligns the needed diversity of expertise for a national response; 2. Stabilize food markets and reduce price volatility—remove export restrictions to allow free movement of agricultural commodities and support fast-track loans and grants to keep trade flowing; 3. Provide immediate food relief while preserving the jobs of private food transporters, processors, and restaurants—transfer emerging best practices in safety and protocols within the U.S. and to global markets; 4. Ensure that land preparation, planting, and production for the coming agricultural season are not delayed, focusing on helping farmers and private-sector providers of inputs and services—re-conceptualize the Civilian Conservation Corps for work projects that can strengthen innovative agricultural programs and support the production and distribution of nutritious and safe foods.
We cannot hesitate to take immediate and longer-term steps to address the emerging food crisis.
Footnotes
[i] Howard, J., Simmons, E. (22 Apr 2020). Covid-19 Threatens Global Food Security: What Should the United States Do? Center for Strategic & International Studies. Accessed 1 May 2020 at: https://www.csis.org/analysis/covid-19-threatens-global-food-security-what-should-united-states-do
[i] Walters, N. (Apr 8, 2020). Thousands of people sign up for free seeds during COVID-19 shutdown. CBS13 WOWK, Charleston, WV. Available at: https://www.wowktv.com/news/local/thousands-of-people-sign-up-for-free-seeds-during-covid-19-shutdown/
[i] Rios, J.A., Ling, G., Pugh, R., Becker, D., & Bacall, A. (2020). Identifying critical 21st -Century skills for workplace success: A content analysis of job advertisements. Educational Researcher, 49, (2), 80-89.
[ii] Amézquita, Lillian, BS, & George, Paul, MD, MHPE. (March 2020). Food insecurity: How to recognize & address it: Certain factors put different patient populations at risk. A 2-question survey can help identify families that are food insecure. The Journal of Family Practice, 69(2), 74-81.
[i] Adams, S. A. (April 19, 2020). Finding an Oasis: Coronavirus Causing More Issues for West Virginians Living in Food Deserts. Wheeling News-Register, B-1.
[i] Black, M. (June 2012). Household food insecurities: Threats to children's well-being. American Psychological Association, Resources and Publications. Available online at: https://www.apa.org/pi/ses/resources/indicator/2012/06/household-food-insecurities
[i] Coleman-Jensen, A. Rabbitt, M. P., Gregory, C.A., et al. (Sep 2017). Household Food Security in the United States in 2016. ERR-237 Washington, DC: US Department of Agriculture, Economic Research Service. Available at: https://www.ers.usda.gov/publications/pub-details/?pubid=84972. Accessed: 30 Apr 2020.
[ii] Rose, D. (1999). Economic determinants and dietary consequences of food insecurity in the United States. J Nutr. 129, 517S-520S.
[iii] Coleman-Jensen, A. Rabbitt, M. P., Gregory, C.A., et al. (Sep 2017). Household Food Security in the United States in 2016. ERR-237 Washington, DC: US Department of Agriculture, Economic Research Service. Available at: https://www.ers.usda.gov/publications/pub-details/?pubid=84972. Accessed: 30 Apr 2020.
[iv] Cook, J. T., & Frank, D. A. (2008). Food security, poverty, and human development in the United States. Annals of the New York Academy of Sciences, 1136, 193-209.
[v] Whitaker, R. C., Phillips, S. M., & Orzol, S. M. (2006). Food insecurity and the risks of depression and anxiety in mothers and behavior problems in their preschool-aged children. Pediatrics, 118(3), e859-68.
[i] Klare, M. T. (1 May 2020). Vovid-19's Third Shock Wave: The Global Food Crisis. The Nation. Accessed on 1 May 2020 at: https://www.thenation.com/article/society/coronavirus-global-food-crisis/
[ii] Reuters. (23 Apr 2020). More Than 5,000 U.S. Meat, Food-Processing Workers Exposed to Coronavirus: Union. The New York Times. Accessed 1 May 2020 at: https://www.nytimes.com/reuters/2020/04/23/world/americas/23reuters-health-coronavirus-usa-meatpackers.html.
[i] Lambert, L. (23 Apr 2020). Real unemployment rate soars past 20%–and the U.S. has now lost 26.5 million jobs. Fortune. Accessed 30 Apr 2020 at: https://fortune.com/2020/04/23/us-unemployment-rate-numbers-claims-this-week-total-job-losses-april-23-2020-benefits-claims/