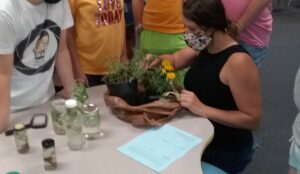 Having access to fresh and nutritious food is a basic human need. We invite middle school teachers to meet these challenges with a new vision for edible food production–using hydroponics.
To engage youth in the universal need for growing food in diverse conditions, WVU Extension Services and PLANTS LLC have partnered to create a series of online and hands-on lessons called Growing Food with Hydroponics. Your students will learn STEM concepts and skills as well as lifelong practical abilities by working with hydroponic systems. Your students will also have opportunities to explore future roles and possible careers in sustainable agriculture and ag technology.
This project is made possible by support from NASA West Virginia Space Grant Consortium and the Northern Panhandle Resource Conservation and Development Council.  Students will explore soil based as well as soilless (hydroponic) agriculture methods used locally and as part of NASA space science research. The Iowa State University 4-H program is also a partner on this project–providing material from their Crops Feed the World online lessons.
What to Expect in Growing Food with Hydroponics Lessons 1-6:
A lesson plan overview for teachers
Two hands-on activities
Online interactive learning materials on the lesson topic
A list of learning objectives appropriate for grades 4-8 students
A list of WV Standards addressed by the activity
Embedded assessments, teacher answer key, and grading rubric
Separate activity instructions for teachers and lab sheets for students
A materials list and time estimate
Topics covered in Growing Food with Hydroponics Lessons
Lesson 1 – Seeds
Lesson 2 – Plant Growth
Lesson 3 – Photosynthesis
Lesson 4 – Water Testing and Hydroponic Substrate
Lesson 5 – Getting the Nutrient Recipe Just Right
Lesson 6 – Design and Build a DIY Hydroponic System
A Hydroponics Kit is provided for participating teachers that includes all the materials that you will need to conduct the activities in Lessons 1-6. To find out more, contact plantlessons @ gmail.com.
To learn more about hydroponics, subscribe to the e-learningtalk.com blog.
Find out how to join the Growing Food with Hydroponics project by clicking the link below: